The Broons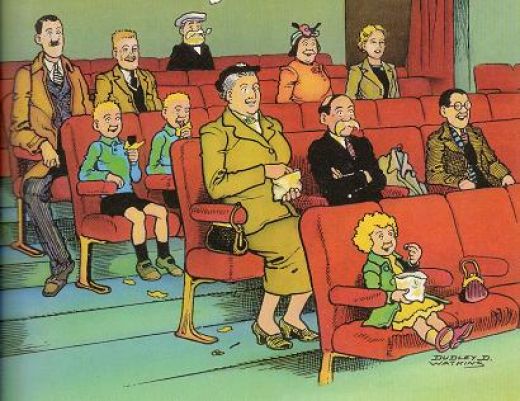 The Broons is a comic strip which appears every week in The Sunday Post, a newspaper which is published by D.C Thomson & Co.
The strip first appeared on the 8th March 1936. It tells the tales of the Broon family who live in a tenement at No 10 Glebe Street in the fictional Scottish town of Auchentogle. Most of the humour derives from the timeless themes of the 'generation gap', stretching the money as far as possible, and the constant struggle for each family member to live in a very small flat with 9 other Broons. In the end the family is always together through it all, getting through life with a gentle good humour as they argue amongst themselves. Another staple of the series is misunderstanding: inevitably the Bairn or the Twins mishear something Granpaw or another family member says, and the whole family act on it until the truth is revealed in the final panel. An example is where the Bairn overhears Maggie talking about her latest beau, and reports to the rest of the family that she heard Maggie say he was half-French and half-Polish. When Maggie says she's bringing him to tea, Hen runs out to buy French wine, Horace swots up on his Polish dictionary, etc. Finally they meet the fellow, who greets the family in broad Scots. It turns out he's a french polisher - "polish" being pronounced the same as "Polish" in Scots

The Bairn

Oor Wullie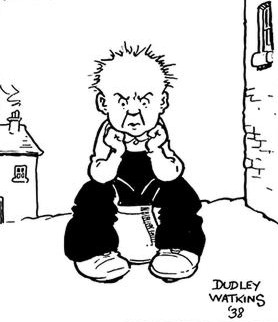 The strip was created by cartoonist Dudley D. Watkins, and first appeared on 8 March 1936. Watkins continued to draw Oor Wullie until his death, after which the Post recycled his work into the 1970s. New strips were eventually commissioned fromKen H. Harrison who was followed in 1997 by Peter Davidson, who continues to draw the strip as of 2008.
Wullie's adventures consist mostly of unrealistic get-rich-quick schemes that lead to mischief, to the despair of his parents Ma and Pa (Dave), and the local policeman, P.C. Joe Murdoch. Wullie's friends are Fat Boab, Wee Eck, and Soapy Soutar, and he is the leader of their gang, a position which is frequently disputed by the others. He used to have another friend called Ezzy, who stopped appearing in the strips, along with Wullie's little brother. He owns a pet mouse named Jeemy, and in later years has gained a Highland Terrier named Harry, and a "sometime-girlfriend", Primrose Patterson. Characters from The Broons occasionally feature, particularly Granpaw.
Wullie's age is 9 years old, his height has been specified at 4 feet 6 inches tall. His catch phrases consist of "Jings", "Crivvens" and "Help ma Boab"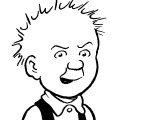 Oor Wullie! Your Wullie! A'body's Wullie!